PBS NewsHour
PBS NewsHour is an evening news show that airs on over 350 PBS member stations in the United States. It airs seven nights a week and is noted for its in-depth coverage of current events and concerns.
The one-hour daily broadcasts are hosted by Judy Woodruff and produced by WETA-TV in Washington, D.C. From August 5, 2013, to November 11, 2016, Woodruff and then-co-anchor Gwen Ifill were the first and only all-female anchor team on an American broadcast television national nightly news program.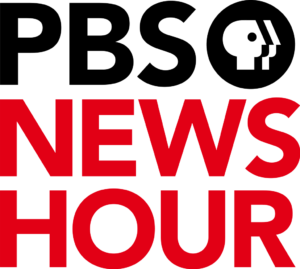 On Saturdays and Sundays, PBS broadcasts a 30-minute edition of PBS NewsHour Weekend, hosted by Hari Sreenivasan and others and produced in New York City by WNET.
The PBS NewsHour is produced at WETA studios in Arlington County, Virginia (for weekday editions), Arizona State University's Walter Cronkite School of Journalism and Mass Communication (later weekday editions with updates targeted for the West, online, and late-night viewers), and the Tisch/WNET Studios at Lincoln Center in Manhattan (for weekend editions); additional facilities are located in San Francisco and Denver. WETA-TV, WNET, and PBS member stations KQED in San Francisco, KETC in St. Louis, and WTTW in Chicago collaborated on the program.
PBS Hosts
Current PBS Hosts
Judy Woodruff – weekday anchor (joined December 20, 1976 – June 24, 1993; joined CNN Group and returned to PBS on April 12, 2006)
Hari Sreenivasan – correspondent, weekend anchor, substitute weekday anchor (joined December 7, 2009; previewed on December 4, 2009, for changing the title)
Jeffrey Brown – chief correspondent for arts, culture, and society, substitute weekday anchor (joined December 23, 1998)
John Yang – special correspondent, substitute weekday anchor (joined March 1, 2016)
Miles O'Brien – science & aviation correspondent, substitute anchor (joined February 9, 2010)
Lisa Desjardins – political correspondent (joined October 29, 2014)
William Brangham – regular interviewer and occasional substitute anchor for the weekday and weekend program (joined August 10, 2012)
Amna Nawaz – Chief Correspondent and White House correspondent on Fridays (joined April 6, 2018)
Michael Hill – substitute anchor for weekends (joined in September 2020)
Nick Schifrin – foreign affairs and defense correspondent and substitute anchor (joined February 10, 2016)
Yamiche Alcindor – White House correspondent (joined December 31, 2015)
Paul Solman – business, economics and occasional art correspondent, creator of Making Sen$e (joined September 1, 1978)
Malcolm Brabant – special correspondent, especially reporting from Europe, based in Denmark (joined June 15, 2015)
Alison Stewart – substitute weekend anchor (joined September 27, 2013)
Soledad O'Brien – substitute weekend anchor (joined October 11, 2015)
Megan Thompson – substitute weekend anchor (joined January 11, 2013)
Mike Taibbi – special correspondent for the Weekend program (joined April 11, 2015)
P.J. Tobia – foreign affairs editor (joined June 19, 2013)
Fred de Sam Lazaro – correspondent and contributor to the Agents For Change series (joined December 10, 1985)
Stephanie Sy – correspondent and PBS NewsHour West anchor (joined October 14, 2019)
Daniel Bush – senior digital political reporter on air during election night coverage (joined November 2015)
Political analysts
David Brooks (Fridays; Joined September 21, 2001)
Jonathan Capehart (Fridays; Joined January 8, 2021)
Tamara Keith (Mondays; Joined November 1, 2012)
Susan Page (Joined July 16, 2018)
Amy Walter (Mondays and election night; Joined July 29, 2004)
Stuart Rothenberg (Joined October 30, 1992)
PBS Political analysts
David Gergen (Fridays; March 30, 1981 – March 18, 1994)
Paul Gigot (Fridays; March 25, 1994 – September 14, 2001)
Mark Shields (Fridays; November 8, 1978 – December 18, 2020)