Richest 90 Day Fiancé Stars
When TLC's "90 Day Fiancé" first aired in 2014, it rapidly became a smash hit, thanks to the couples who were willing to open up about their challenges with falling in love with a foreign spouse. The show's premise is simple: viewers follow couples as they apply for a K-1 visa and are either approved or denied. Many couples face challenges when they strive to meet the standards of the US Citizenship and Immigration Services. Some couples, however, succeed and marry within the 90-day time restriction, while others break up or are discovered to be scams. No one said maintaining a long-distance relationship was easy, but thanks to social media and spinoffs, reality star couples that have made it have also learned to transform their TV success into a profitable day job. However, when it comes to the most successful of our fan favorites, you might be surprised to hear who controlled the purse strings in the relationship, allowing them to claim the title of "90 Day Fiancé's" wealthiest star.
Larissa Lima – $0.5 million
According to Screen Rant, Larissa Dos Santos Lima, who was undoubtedly one of the franchise's most hate-to-love characters, is worth $0.5 million . Dos Santos Lima has a sizable social media following and has attracted a few sponsors. Fans may have believed she was more valuable, but she makes up for it with discretion. The majority of her procedures have been done on a pro rata basis. All she needs to do now is use her Instagram account to advertise the medical practice. Heather Rohrer, the owner of the Center for Aesthetic Medicine, is someone she has previously worked with. She also had a career on OnlyFans and CamSoda before being fired from the franchise. "I was able to make $50,000 in one year on Cameo," she once told In Touch Weekly. After leaving Colorado for her next adventure, Dos Santos Lima has returned to Sin City.
Kenneth Niedermeier – $0.5 million
Kenneth Niedermeier and Armando Rubio starred as the franchise's first lgbt male pair. Kenneth's move to Mexico to be with Armando and his daughter was documented in 90 Day Fiancé: The Other Way. According to The Cinemaholic, Kenneth, a father of four and happy grandfather, has a net worth of $500,000. His wealth is said to have come from a previous profession in business and real estate sales.
Colt Johnson – $0.6 million
Colt Johnson has a net worth of $0.6 million (via Life & Style). The self-proclaimed mama's boy is still employed at TLC and earning money.
Big Ed Brown – $0.8 million
According to The Cinemaholic, Big Ed Brown, the San Diego native is worth $0.8 million. He originally appeared with his ex-fiancée Rosemarie Vega on "90 Day Fiancé: Before the 90 Days." He's now gone on to star in "90 Day Fiancé: The Single Life," a TLC spinoff, and promotes himself on Cameo.
Elizabeth Potthast – $1 million
Elizabeth Potthast's now-husband Andrei Castravet was not working when she initially appeared on 90DF during Season 4. According to ScreenRant, she's turned into a major boss lady since then, with an estimated net worth of $1 million. Not only did the pair launch their own real estate company, Castravet Properties, but Elizabeth also advertises Boom Bod, Curology, and other brands on Instagram. Since opening their OnlyFans profiles, the duo has also made more money.
Anfisa Nava – $1 million
Anfisa Nava's romance with Jorge Nava during Season 4 did not work out, and she has been concentrating on her job ever since. She is a fitness influencer who has developed a training program, has a YouTube channel, and is a member of OnlyFans. It's no surprise she has a $1 million net worth, according to The Cinemaholic.
Michael Jessen – $1.5 million
Michael Jessen's inclusion on this list may come as no surprise, given that he gave Juliana Custodio de Sousa a $4,000 custom-made necklace and purchased a $1 million mansion during Season 7. According to The Cinemaholic, he has a net worth of $1.5 million as a result of his work as a wine investor for Zachys Wine Auctions for over a decade and other business enterprises.
Darcey Silva – $2 million
Darcey has made four appearances on 90DF and even has her own spinoff alongside her twin sister, Stacey. According to ScreenRant, the blonde beauty's net worth is estimated to be $2 million due to her many endeavors. She runs Eleventh Entertainment, a production firm, and a clothing brand with her sister called House of 11, as well as posting about numerous partnerships on social media.
David Murphey – $2.5 million
According to ScreenRant, David is the highest-paid 90DF star, with an estimated net worth of $2.5 million. He works for Clark County in Nevada as an SR Systems Programmer and sells his high-end stuff to fund additional purchases. When it comes to spending so much money on dating services, David is unconcerned. It's a rake! Current and former 90 Day Fiancé stars like David Murphey, Darcey Silva, and Larissa Dos Santos Lima are among the show's highest-paid participants. Their net worths are in the six figures, and it's clear that their reality star status has aided in their financial success. While it may appear that all of the 90DF couples are generating money from their appearances on the reality program about long-distance relationships, this is not the case. During Season 5 in 2018, Chris Thieneman and his wife Nikki Cooper appeared in David Toborowsky and his now-wife Annie Suwan's plot, claiming they were not paid a penny for their time on set. Later that year, an insider told Radar Online how the show's sliding compensation scale works. The insider added at the time that "90 Day Fiancé pays their American cast members $1,000 to $1,500 per episode." Even if someone is cast in the 90 Day Fiancé: Happily Ever After? spinoff, their remuneration "doesn't go up much more." Unfortunately, the foreign stars are not paid for their appearances on the show. The source stated, "They can't even get paid since they have to wait for a work visa." "Of course, if the filming takes place in their country, it's a different story." Aside from receiving a payout from TLC, participating on 90 Day opens up other opportunities for financial gain, such as becoming a social media influencer, a cameo star, or being paid for public appearances.
90 Day Fiancé New Season 2021
90 Day Fiancé: The Other Way
is the season that took off in 2021 after
90 Day Fiancé: Happily Ever After
ended. 90 Day: TOW was arguably the franchise's best spinoff.
90 Day Fiancé: The Other Way
90 Day: TOW featured Americans who've left home to move abroad with their spouses, 90 Day: TOW naturally makes for high drama, but there's just something about these couples that's more genuinely romantic than the "normal" way versions of the show.
Why 90 Day Fiancé: The Other Way is the best spinoff
90 Day: TOW's best couple: Kenneth and Armando; 90 Day's first gay couple is preparing for the wedding of the year in Mexico after getting their marriage license issued. Dealing with international homophobia and Kenny's inability to speak Spanish hasn't been easy for the couple, but in the above first look at season three, Armando appears to be lot more outspoken in their relationship. Hannah, Armando's daughter, is also thrown into the equation (and it sounds like Armando wants to make some additions in that department). Kenny and Armando are perhaps the pair I'm most looking forward to seeing again this season (but then again, I'm biased), but the other returning couples are all 90 Day All-Stars. Sumit and Jenny are still not married, and Sumit's family refuses to let him marry her, but Jenny is still in India on an extended visa. Will their romance come to an end this season, or will one of them finally put their foot down and force a wedding? I believe in their love, even if I've never trusted Sumit. Ariela and Biniyam, meantime, have amazingly found a way to make things work since we last saw them. How did they manage to accomplish this? Ariela, on the other hand, has become increasingly reliant on her ex-friendship. husband's In fact, Ariela reveals that the man she has been married to for ten years will be visiting them in Ethiopia. Is there a compelling rationale for this? Certainly not. Will I be watching every second of Biniyam's boxing match with Ariela's ex-husband? I will without a doubt. Evelin and Corey, who we haven't seen since season one, are heartbroken if every season has to have them. They keep breaking up, sleeping with other people, and then getting back together. Evelin despised America and persuaded Corey to permanently go to Ecuador, despite the fact that she remains uninterested in marriage. Corey is still trying to persuade himself that this woman really wants to marry him, even if Evelin's friends keep telling him it's a bad idea. Steven, 25, was intending to move to Russia to live with Alina, 20, until COVID-19 intervened and disrupted their plans. Young love is a terrific complement to the 90 Day Fiancé formula, and these two don't appear to be mature enough to move across the world and marry. Finally, there's Ellie, 45, and Victor, 38, who appear to be old enough to realize they're making a tremendous error. Ellie has made the decision to leave her restaurant and her life in Seattle in order to relocate to a little island off the coast of Colombia. Ellie is sure of their love despite numerous red flags and lies. These two couples, unlike some of 90 Day: TOW's other new couples, feel genuine rather than excessively contrived (I hope we never see Brittany and Yazan on the show again). Will Kenny be able to communicate in Spanish? Will Sumit finally begin to reveal the truth? Is Evelin ever going to warm up to Corey? Will Ariela finally quit being the most self-centered person in the history of 90 Days? Find out what time it is. 90 Day: The Other Way starts on Discovery+ on Sunday, August 29 at 8 p.m. ET/PT, with each new episode available early on Fridays. Every week, right here at Vulture, I'll be bringing you with weekly coverage of all of The Other Way's international mayhem.
The Family Chantel Wiki
The Family Chantel is an American-produced reality TV show that airs on TLC and follows the life of
Chantel Everett
and
Pedro Jimeno
and their immediate families as they go through an intercultural marriage. The Family Chantel is the first spin-off series of 90 Day Fiancé that follows a particular couple. Season one of the show premiered on July 22, 2019.
The Family Chantel Cast
The show stars Pedro Jimena and Chantel Everett her mother Karen Everet and her Thomas Everett, her siblings River Everett, and Winter Everett. Pedro's mother and sister, Lydia and Nicole Jimeno also feature in the reality TV show. The following is a list of some of the notable cast;
Chantel Everett
Pedro Jimeno
Karen Everett
Thomas Everett
River Everett
Winter Everett
Royal Everett
Lydia Jimeno
Nicole Jimeno
Angenette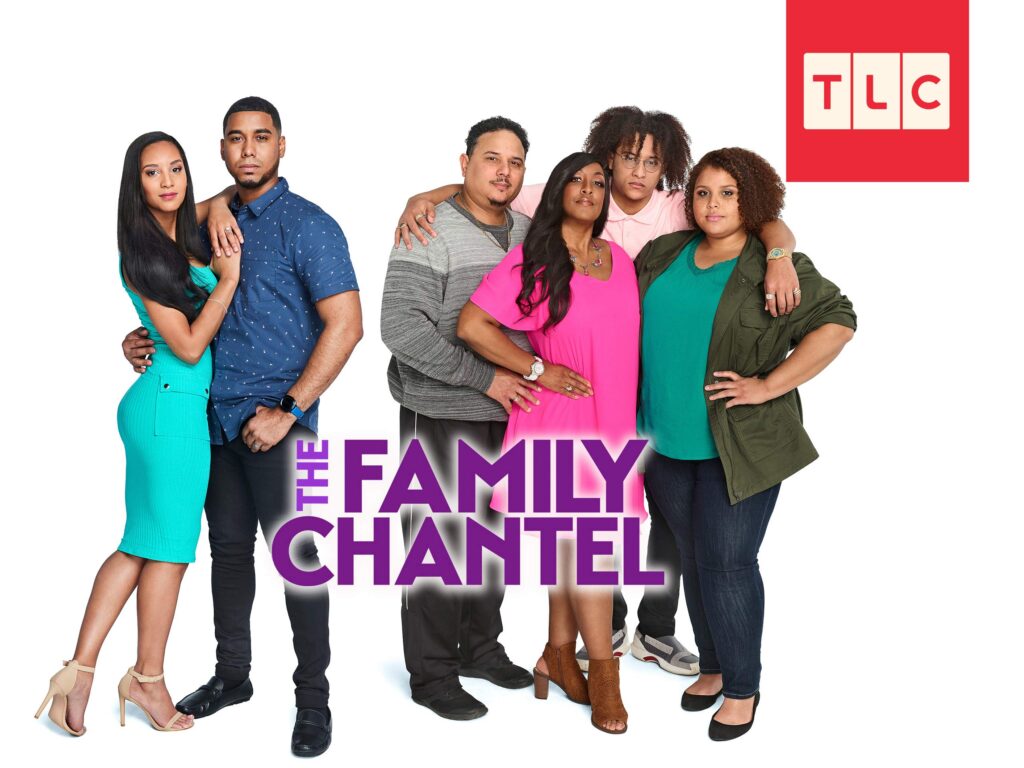 Quick Facts about The Family Chantel
1. The Family Chantel airs on TLC 2. It is produced by Sharp Entertainment 3. It has 2 seasons 4. The show debuted on July 22, 2019 5. The show is related to 90 Day Fiancé and 90 Day Fiancé: Happily Ever After? 6. The couple live on a K-1 visa 7. The show follows the life of Chantel Everett and Pedro Jimeno and their immediate families 8. The story of Pedro Jimena and Chantel Everett is documented on season four of 90 Day Fiancé 9. The series was renewed for the second season, which began on October 12, 2020. 10. Chantel Everett and Pedro Jimeno secretly got engaged while on Chantel's trip to the Dominican Republic
The Family Chantel Cast Net Worth 2020-2021
| | | | |
| --- | --- | --- | --- |
| | Cast | Net Worth in 2021 | Net Worth in 2022 |
| 1 | Pedro Jimena Net Worth | $500 thousand-$1 million | $500 thousand-$1 million |
| 2 | Chantel Everett Net Worth | $500 thousand-$1 million | $500 thousand-$1 million |
| 3 | Karen Everet Net Worth | $100 thousand-$500 thousand | $500 thousand-$1 million |
| 4 | Thomas Everett Net Worth | $100 thousand-$500 thousand | $500 thousand-$1 million |
| 5 | Lydia Jimeno Net Worth | $100 thousand-$500 thousand | Null |
| 6 | Nicole JimenoNet Worth | $100 thousand-$500 thousand | Null |
Who is the richest 90 day fiance?
David Murphey is the most prosperous cast member of the 90 Day Fiance reality tv show.
Do 90 day fiance couples get paid?
Yes, the couples on 90 Day Fiancé are paid, though it's not much money. A source revealed to Radar Online that all the cast members get paid about $1,000 to $1,500 per episode and $2,500 for an appearance on the tell-all special. That paycheck totals to about $14,500 for a 12-episode season.
What's wrong with Big Ed on 90 day fiancé?
Big Ed explained that he suffers from a rare genetic flaw called
Klippel-Feil syndrome
. This is a rare genetic condition where two bones in the neck are joined together.
Who has divorced on 90 day fiance?
Michael and Sarah got divorced. The 90 Day Fiance season 7 star Michael got real about his unusual relationship with his ex-wife, Sarah, on part one of this season's tell-all special that aired on TLC.
Are Paul and Karine still together in 2020?
Paul posted on Instagram, announcing that he and Karine had commenced divorce proceedings (via ET). Karine told Us Weekly she was looking for a good lawyer. However, the duo got back together, posting photos together on Instagram in early 2020.
Are Nicole and Azan married?
Despite thoughts of fans that the pair may have separated, Nicole revealed via Instagram in October 2020 that she and Azan are still engaged.
Availability: TCL