Margot Merrill Biography and Wiki
Margot Merrill  is an American celebrity child widely known for being the daughter of Bette Davis. Margot Mosher Merrill was the adopted daughter of Davis and husband Gary Merrill.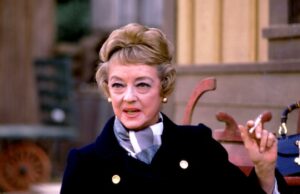 Margot Merrill Today, Margot Merrill Age
Margot Merrill is 71 years of age as of 2022, she was born in 1951 and is still alive today. Davis and her fourth husband, Gary Merrill, adopted her shortly after she was born. Though she was a happy baby, it was clear by the time she was three years old that something was wrong.
A trip to the doctor revealed that Margot had brain damage that had occurred soon after her birth. Though her family attempted to care for her at first, Margot was eventually admitted to the Lochland School in Geneva, New York. She lived there for the majority of her life.
Davis once said, according to Ed Sikov's biography Dark Victory, "The most difficult day of my life was the day I was dressing Margot, three years old, in a sailor suit and a sailor hat [and told her] about the lovely school she was going to."
Margot was moved around throughout her life and returned home frequently, but she never lived with her mother for an extended period of time again.
Davis desired to bring Margot home once B.D. was married and Michael was away at school, but she did not appear to be capable of caring for Margot on her own; their visits were allegedly difficult and abruptly cut short.
Davis, on the other hand, painted a positive picture of her relationship with her younger daughter in her memoir This 'N That.
In the 1960s, Davis removed Margot from Lochland and placed her with several different families in Philadelphia before settling at the Devereaux Foundation home in Santa Barbara.
However, Margot was dissatisfied there, which sparked a feud between Davis and Margot's adopted father, Merrill, who wanted her returned to Lochland.
According to Shaun Considine's book Bette and Joan: The Divine Feud, Davis allegedly said he could take her there and pay for it if he wanted, which may have led to Merrill accusing Davis of abandoning Margot.
Merrill did pay for Margot's care at Lochland until his death in 1990, and he established a trust to care for her after his death, which was managed by her brother, Michael Merrill.
Davis' will made no mention of Margot or her older daughter B.D. Davis' motivations are unclear, but Margot appears to have been well cared for regardless.
Margot was still living at Lochland at the time Dark Victory was published in 2008. Her current situation is unknown, but it seems reasonable to assume that she is still living there in her 70s.
Margot Merrill Mother
Ruth Elizabeth "Bette" Davis (April 5, 1908 – October 6, 1989) was an American actress who had a 50-year career and over 100 acting credits. She was known for playing unsympathetic, sardonic characters in a variety of film genres, ranging from contemporary crime melodramas to historical films, suspense horror, and the occasional comedy, though her greatest successes were in romantic dramas. She was the first thespian to receive ten nominations and win two Academy Awards.
Davis, then 22, moved to Hollywood in 1930 after appearing on Broadway in New York. After a string of unsuccessful films, she made her critical breakthrough as a vulgar waitress in Of Human Bondage (1934), though she was not one of the three Academy Award nominees for Best Actress that year. Her performance as a down-and-out actress in Dangerous (1935) earned Davis her first Best Actress nomination, which she won the following year. She attempted to break free from her contract with Warner Brothers Studio in 1937; although she lost the legal case, it marked the beginning of more than a decade as one of the most celebrated leading ladies in American cinema.
The same year, she starred in Marked Woman, which is regarded as one of her most important early films. Davis' portrayal of a strong-willed 1850s southern belle in Jezebel (1938) earned her a second Academy Award for Best Actress, and it was the first of five consecutive years in which she received a Best Actress nomination; the others were for Dark Victory (1939), The Letter (1940), The Little Foxes (1941), and Now, Voyager (1942). (1942).
Davis was known for her forceful and intense acting style, and she earned a reputation as a perfectionist in her field. She could be combative and confrontational with studio executives, film directors, and co-stars, expecting the same high level of performance and commitment from them as she did from herself. Her forthright demeanor, eccentric speech, and ubiquitous cigarette all contributed to a public persona that has been widely imitated.
In All About Eve (1950), she played a Broadway star, earning her another Oscar nomination and the Cannes Film Festival Award for Best Actress. Her most recent Academy Award nomination was for What Ever Happened to Baby Jane? (1962), in which she co-starred with her famous rival Joan Crawford.
Her most successful films in the latter stages of her career were Death on the Nile (1978) and The Whales of August (1980). (1987). Despite a long period of ill health, she continued acting in film and on television until shortly before her death from breast cancer in 1989. She admitted that her professional success had frequently come at the expense of her personal relationships. She had been married four times, divorced three times, and widowed once before her second husband died unexpectedly. She raised her children primarily as a single mother. Her daughter, B. D. Hyman, wrote a contentious memoir about her childhood, My Mother's Keeper, which was published in 1985.
Davis co-founded the Hollywood Canteen, a club venue for food, dancing, and entertainment for servicemen during WWII, and was the Academy of Motion Picture Arts and Sciences' first female president. She was also the first woman to receive the American Film Institute's Lifetime Achievement Award. Davis was ranked second only to Katharine Hepburn on the American Film Institute's list of the greatest female stars of the classical Hollywood cinema era in 1999.
Margot Merrill Husband
Margot likes to keep her marital life off the limelight, and hence, details about her husband are not disclosed—if she is married.
Margot Merrill Net Worth
Merrill is estimated to have a net worth of about $1 million as of now.
Margot Merrill Step-Sister
B. D. Hyman Age
Barbara Davis is 74 years old as of 2021, she was born on May 1, 1947, in Santa Ana, California, U.S.
She has been celebrating her birthday every year together with her family and friends.
| | | |
| --- | --- | --- |
| Year | 2021 | 2022 |
| Barbara Davis Hyman Age | 74 years | 75 years |
B. D. Hyman Husband
B.D., Bette Davis's daughter with William Grant Sherry, married when she was only 16 years old. Ryan Murphy's anthology series Feud will focus on the beginnings of B.D. Davis' relationship with her husband, Jeremy Hyman, as well as the mother-daughter relationship. And, despite marrying young to someone years her senior, B.D. is still married to Hyman today.
Bette was slightly obsessed with her daughter's dating life, according to B.D., according to People. B.D. claimed that her mother was a virgin when she first married and that she always regretted that decision, so she allegedly lived vicariously through her daughter in that department.
Bette is quoted as saying about B.D. in the book Bette & Joan: The Divine Feud, "Great face, body, and intelligence. I'd be married to a millionaire and far away from this fucking town if I had a fraction of what she has." So, just from that quote, you can imagine what Bette might have thought when her daughter married (with her mother's reluctant blessing) her husband when she was only 16 years old.
What Ever Happened To Baby Jane? helped B.D. meet her husband, Jeremy Hyman. In the film, B.D. played the neighbor's daughter, and Hyman was the nephew of Elliot Hyman, the owner of the company that produced What Ever Happened To Baby Jane? There was also the issue of Hyman's age at the time, which made him 13 years older than B.D. Some may be surprised to learn that they are still together after 54 years of marriage.
B. D. Hyman Net Worth
B. D. is estimated to have a net worth of about $5 million as of now.