Josh Neuman Biography
Josh Neuman was an American skateboarder and a social media influencer who started off filming longboarding videos for YouTube at the age of 12. Since then, his love for extreme sports, traveling, & creating compelling content grew exponentially.
Before his untimely death, he was traveling all over the world while creating content for international brands and YouTube. He was based in Los Angeles, California after he left Chapel Hill, North Carolina where he attended University for several years before dropping and going full-time in content creation. His passion for pushing boundaries and fleeing the comfort zone was evident in both his adventures and his work.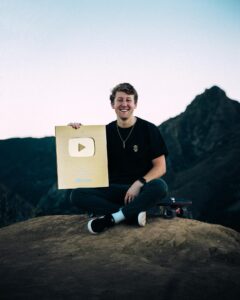 Photo Caption: 1 MILLION SUBSCRIBERS
About 10 years ago I posted my first YouTube video. 12 year old me could never have imagined what was to come. To everyone who has supported me during this journey, thank you from the bottom of my heart. I still can't believe that we've built such an amazing community and I am eternally grateful.
–
If you've followed me for a while, you know I like to do things differently. So, instead of talking about the opportunities I've had, I wanted to talk about a few lessons I've learned along the way.
–
1. Do something because you're passionate about it and not to make money, be popular, etc. With anything you do, there are going to be times when you want to give up. If you aren't passionate about what you're doing, you won't be willing to take those inevitable hits. (For the first 7 years of making videos, I gained a whopping 5K subscribers. I just truly loved making videos).
2. A number will never make you happy. It's important to have your needs met but beyond that, no number of money or followers will bring you true happiness. Numbers never end and unfortunately for us humans, it's in our nature to always want more. This is why it's crucial that our sense of success/fulfillment comes from what we're doing and not a number.
3. If you don't fail, you aren't pushing yourself hard enough. This applies to sports, business, relationships, etc. Failure is a key part of learning and without it, there's no such thing as true success. It's not about how many times you get knocked down, it's about how many times you get back up :).
4. If you're doing what you love, don't worry about what others think. I used to be so insecure about what people thought of me and it held me back from putting myself out there. A quote that changed my mindset was "Be who you are and say what you feel, because those who mind don't matter, and those who matter don't mind." – Bernard M. Baruch
5. Life begins where your comfort zone ends. Many of my best memories from the past 10 years have been in times when I was the most uncomfortable. Developing a healthy relationship with fear and discomfort will change your life and the first step is to get out of your comfort zone.
Josh Neuman Net Worth
Neuman had an estimated net worth of around $2 million, he accumulated his worth from working with international brands like; Prada, LG, Lexus, Suspicious Antwerp, Sony, Motor Trend, GoPro, MVMT, Intel and other national brands. He was extremely dedicated in his work, as the testimonials below prove…
"Collaborating with Josh was a dream. We teamed up with Josh for LG Electronics' Global Brand Campaign and it was absolute pleasure. Josh is passionate, professional, always creates the best content ever and truly knows how to communicate with his audience. Not only that, we just loved working with him from day one. We really hope to continue working with Josh for the future projects :)." – Sungyeon Anna Choi, GRID International
"We worked with Josh for the launch of our HERO8 camera on a week-long shoot in Norway. While I directed the shoot, Josh was an invaluable asset to have on-site as not only talent but to help with the ideation of shots, coordination of the athletes, and overall leadership where I couldn't have eyes. I relied on Josh to be the voice of how to be most authentic in our shoot for the audience that he's an expert in. The resulting product we came away with speaks for itself! I would gladly work with him again on any future projects!" – Abe Kislevitz, Senior Creative Director – GoPro
"I've been fortunate enough to work with an array of incredible athletes and actors in my 20 years of directing, from William Shatner to Tom Brady. I recently did a Lexus project and got the pleasure of meeting and working with Downhill Skater phenomena Josh Neuman. I was extremely impressed by the extent of his talent. Not only his extreme sports talent, but the way he carried himself on and off camera. Aware, respectful and appreciative to everyone around him. These are the qualities of people I don't forget.
Josh is a true filmmaker himself and that made a huge difference to the end result. He has a way of collaborating that is very smart and intuitive to the storytelling which is key to make content stand out these days.
To put it plainly, I was BLOWN away by Josh Neuman's character, performance and talent and with his help the project was a home run. I hope to have the opportunity to work with him soon again." – Warren Kushner, Owner and Director – KFilms
Demise
Neuman was among four people killed when a small plane crashed into a lake in Iceland.Authorities say that the 22-year-old was onboard the plane to create commercial content for the Belgian fashion brand Suspicious Antwerp, when the aircraft went missing.
Josh Neuman Parents (Mother and Father)
Josh was born to both parents (mother and father) in a large-sized family setting in Ohio. Details about his mother and father's name and what they do/did for a living are currently unavailable, however, he was raised alongside his siblings. Nevertheless, as soon as credible information about his father, mother, brothers and sisters is available, we shall update all Josh's family members immediately.
Josh Neuman Age
Neuman was over 22 years of age when he tragically died.
Josh Neuman Girlfriend
Neuman was in a relationship, his girlfriend's name has not been released yet.
Last Instagram Post
View this post on Instagram