Jan Van Halen Biography
Jan Van Halen is a Dutch vocalist, who is not only renowned for his musical talents but also holds the significant role of being the patriarch of the Van Halen family. He is the father of rock legend Eddie Van Halen, Alex Van Halen, and the grandfather of Wolfgang Van Halen.
Eddie, his son, co-founded the iconic rock band Van Halen in 1972, serving as the guitarist, keyboardist, backing vocalist, and primary songwriter alongside his brother Alex Van Halen, who played the drums.
Born on January 18, 1920, to Jannetje Berg and Hermanus van Halen, a butcher in Amsterdam, Netherlands, Jan Van Halen exhibited a passion for music from an early age. His musical journey began as a jazz pianist, clarinetist, and saxophonist. Despite the outbreak of World War II when he was only 19, Jan Van Halen had already established himself in the music industry.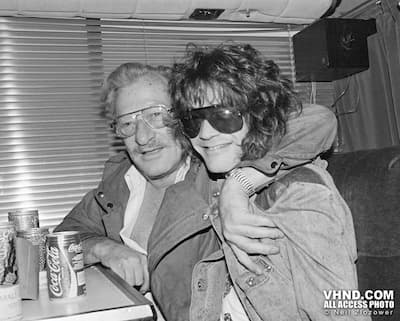 Jan Van Halen's Cause of Death
Jan Van Halen experienced a heart attack in May 1980, and unfortunately, he succumbed to the complications of alcoholism on December 9, 1986, in Pasadena, California, United States. His cause of death was attributed to the adverse effects of alcoholism, as reported by Peoplepill.
Jan Van Halen Wife
Jan Van Halen shared his life with his beloved wife, Eugenia Van Halen. The couple first crossed paths when Jan met the Dutch-Indonesian Eugenie van Beers (1915–2005). Their connection deepened, leading to their marriage in August 1950 in Jakarta. The newlyweds returned to the Netherlands, arriving on March 4, 1953.
The Van Halen family expanded with the arrival of two children: Eddie Van Halen and Alex Van Halen. Alex was born two months later in Amsterdam, and the family later relocated to Nijmegen, where Eddie entered the world in 1955.
Eugenia, witnessing mistreatment due to their mixed-race relationship in the 1950s, became convinced that moving to the United States would provide a better environment for the family. In February 1962, they embarked on a journey by boat and traversed the continent by train, ultimately settling in Pasadena, California.
Jan Van Halen's Music Career
Jan Van Halen's dedication to his music persisted even after World War II and the responsibilities of starting a family. His performances resonated in notable venues such as The Continental Club, La Miranda Country Club, and The Alpine Haus, as detailed by Van Halen News Desk.
Despite his musical pursuits, the income generated was insufficient to sustain his family of four. To supplement, Jan took on various jobs, including janitorial work, dishwashing, and overnight phone duties.
Reflecting on his father's passion for music, Eddie shared a poignant memory, saying, "I knew what music was really about ever since my earliest memory of hearing my dad downstairs in his music room, holding just one note on his clarinet for as long as he could." Jan's dedication extended to unusual lengths in pursuit of his musical expression.
Eugenia, Jan's wife, couldn't comprehend why he didn't opt for a conventional job to support the family. Eddie reminisced about his childhood, revealing, "The whole time I was growing up my mom used to call me a 'nothing nut—just like your father."
While Jan aspired for Eddie and Alex to become classical pianists, Eddie forged his path into rock music. Influenced by 1960s British Invasion bands, Eddie leaned towards the guitar, causing frustration for Eugenia. Young Edward faced the occasional punishment of having his guitar locked away by his mother.
As both Eddie and Alex embraced their musical interests, Jan's role as a perpetually working-class musician continued until a significant turning point in 1982. At over sixty years old, he collaborated with his sons on the album "Diver Down," marking a notable achievement in his musical journey.