Weijia Jiang Biography
Weijia Jiang is a Chinese-American journalist working for CBS News as the White House Correspondent and reporter since July 2018. She trended during the covid 19 pandemic after her tough questions to President Donald Trump about the US COVID-19 testing program and why the cases of covid 19 and death of people kept on increasing. Trump was somehow threatened by her questions and told her "keep Your Voice down' and "ask China".
Weijia Jiang CBS News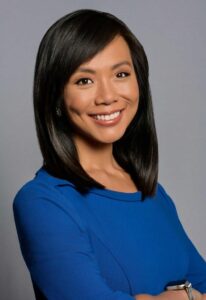 Jiang joined CBS News in Washington DC in July 2015. She worked as a correspondent for CBS's 24-hour newsgathering service, Newspath. She covered political stories such as the funeral of the First Lady of the United States Barbara Bush and the 2016 United States presidential election. She largely reported on both the Obama and Trump administrations.
In 2018, Jiang became the White House correspondent for CBS News. She has covered most of Trump's publicized stories such as his G-7 Summit, President Trump and Russian President Vladimir Putin's historic summit in Helsinki, Trump's first and second impeachments, the Mueller Probe, and the 2020 United States Presidential elections.
In the Biden administration, she is a senior White House Correspondent for CBS News
Weijia Jiang Age, Family, Parents
Jiang is 38 years old. She was born on June 6, 1983, in Xiamen, Fujian, China. Her parents are Liya Wei and Huade "John" Jiang. Her family migrated to the US when she was two years old and settled in Buckhannon, West Virginia. Weijia's parents used to work at their own restaurant called Chinatown Restaurant.
Weijia Jiang Height
Jiang stands at an average height of  5 feet 4 inches.
Weijia Jiang Education
Weijia graduated from the College of William & Mary with a Bachelor's degree in Philosophy and a minor in Chemistry. in 2005. When she was in her eighth grade, she participated in a journalism competition run by Channel One News. She got an opportunity to intern in Los Angeles for two weeks as a student anchor and reporter.
Who is Weijia Jiang's Husband
Weijia is married to Travis Luther Lowe. He is n executive at Yelp and a donor to Democratic Party candidates and causes. They met while co-hosting a weekly campus television show in college.
Weijia Jiang Daughter| Baby
Jiang gave birth to her first child, a daughter called Frankie Mei in December 2018.
Weijia Jiang Wedding
Jiang and Lowe held their wedding On March 17, 2018.
Weijia Jiang Salary
Jiang has a salary estimated to be between $50 k – $120 K.
Weijia Jiang Net Worth
She has a net worth ranging between $200 k and $500 k.
Weijia Jiang Journalist
Weijia began her career in journalism in 2006 as a WBOC-TV reporter. She then joined WJZ-TV in June 2008 where she worked as a general assignment reporter. In June 2012, Weijia joined WCBS New York where she worked as a general assignment reporter. While there, she covered stories such as Hurricane Sandy, the Sandy Hook Elementary School shootings, and the Boston Marathon bombings.
Weijia Jiang Donald Trump
Being a white House correspondent during Trump's administration, Weija found herself always at the receiving end of Trump's unexpected responses. Those instances created a buzz around the United States and globally. Such instances are highlighted below.
On 15th June 2018, Trump told her to be quiet and later uttered "She's so obnoxious" to another person when Weija asked him why he felt North Korea no longer posed a nuclear threat.
On 26th September 2018, Weijia asked Trump about Brett Kavanaugh who was the then-Supreme Court nominee to which he told her "sit down".
On 3rd April 2020, Weijia asked Trump why he did not warn Americans about the virus sooner. His response was "just relax" and to "keep your voice down".
On 11th May 2020, Weija asked Trump why there was an emphasis on competitively comparing coronavirus testing. He responded with  "Don't ask me. Ask China that question."  Weija: "Sir, why are you saying that to me, specifically?" Trump: "I am not saying it specifically to anybody. I am saying it to anybody who would ask a nasty question like that."
Such responses caused major debates online which raised sensitive issues around racism.
Jiang Short Bio
Full name: Weijia Jiang
Age: 38 years old
Date of Birth: June 6, 198
Height: 5 feet 4 inches
Weight: To be updated
Parents: Liya Wei and Huade "John" Jiang
Siblings: To be updated
Husband: Luther Lowe
Children: Frankie Mei
Education: College of William & Mary
Occupation: Journalist
Salary: $50 k – $120 K
Net Worth: $200 k and $500 k