Lucimarian Tolliver Biography
Lucimarian Tolliver was a prominent American mother, primarily recognized as the mother of Robin Roberts. Robin Roberts is a well-known American television broadcaster, notably serving as the anchor of ABC's "Good Morning America."
Robin's career began in Mississippi, where she grew up, and she later attended Southeastern Louisiana University. She initially worked as a sports anchor for local television and radio stations. Her career then expanded as she became a sportscaster on ESPN, where she worked for 15 years.
Lucimarian Tolliver Age and Cause of Death
Lucimarian Tolliver passed away at the age of 88. She was born on February 5, 1924, in Akron, Ohio, to her parents William and Sally Suddeth Tolliver. Unfortunately, she suffered a stroke in July and subsequently passed away on August 30, 2012, in Gulfport, Mississippi, in her Pass Christian home.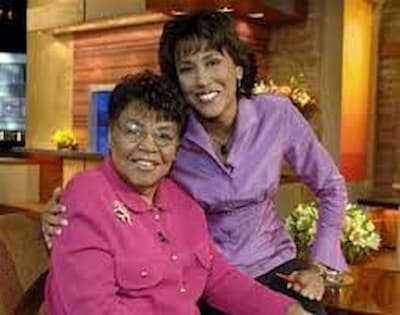 Lucimarian Tolliver Family
Lucimarian Tolliver was a part of a loving family. She was the daughter of William Tolliver and Sally M. Suddeth Tolliver. Lucimarian is survived by several family members, including her sister, Depholia Sims Butler of Akron, Ohio.
Her surviving children are Lawrence E. Roberts, II (Cynthia) of Houston, Texas; Sally-Ann Roberts Nabonne (Ron) of New Orleans; Dorothy Roberts McEwen of Long Beach, Mississippi; and Robin R. Roberts of New York, New York. Lucimarian is also remembered by her eight grandchildren and six great-grandchildren.
Lucimarian Tolliver Husband
Lucimarian Tolliver was married to her beloved husband, Lawrence E. Roberts, a retired United States Air Force Colonel. Together, they had four children: Sally-Ann Roberts, Robin Roberts, Dorothy Roberts McEwen, and Lawrence E. Roberts, Jr.
Her husband, Lawrence Edward Roberts Sr., had a remarkable military career. He was an American pilot who served with the Tuskegee Airmen and reached the rank of colonel in the United States Air Force, accumulating 32 years of dedicated military service.
Lawrence was born on December 9, 1922, in the Vauxhall section of Union Township, Union County, New Jersey. Sadly, he passed away on October 12, 2004, at the age of 81, in Biloxi, Mississippi, due to a heart attack.
His funeral services were conducted at the Triangle Chapel at Keesler Air Force Base near Biloxi, and he was laid to rest at Biloxi National Cemetery with full military honors, commemorating his significant contributions and service to the nation.
Lucimarian Tolliver Daughter Robin Roberts
Robin Roberts, born on November 23, 1960, is a prominent American television broadcaster, well-known as the anchor of ABC's "Good Morning America."
Her journey to success began as she grew up in Mississippi and attended Southeastern Louisiana University. She started her career as a sports anchor for local television and radio stations. Robin Roberts made a significant mark as a sportscaster on ESPN, where she spent 15 years from 1990 to 2005. In 2005, she took on the role of co-anchor on "Good Morning America."
Beyond her broadcasting career, Robin Roberts was recognized for her accomplishments in sports and was inducted into the Women's Basketball Hall of Fame in 2012. Her battle with myelodysplastic syndrome and her courageous treatment journey were chronicled on the program, earning her and her team a 2012 Peabody Award for their outstanding coverage.
Robin Roberts was born in Tuskegee, Alabama, and spent her formative years in Pass Christian, Mississippi, where she was actively involved in sports like basketball and tennis. She attended Pass Christian High School and graduated as the class of 1979 salutatorian. She is the daughter of Lucimarian (née Tolliver) and Colonel Lawrence E. Roberts.
In a presentation to the student body at Abilene Christian University in 2006, Robin Roberts credited her parents with instilling the values of "the three 'D's: Discipline, Determination, and 'De Lord.'" She is the youngest of four siblings, with sisters Sally-Ann and Dorothy and a brother, Lawrence Jr., affectionately known as Butch. Her father, Colonel Lawrence E. Roberts, was a pilot with the renowned Tuskegee Airmen.
Robin Roberts is of the Presbyterian faith and practices Transcendental Meditation. She has been in a romantic relationship with massage therapist Amber Laign since 2005. In late December 2013, Robin publicly acknowledged her sexual orientation, making it known to her friends and co-workers.
In 2015, she was recognized by Equality Forum as one of their 31 Icons of the 2015 LGBT History Month. In September 2023, Robin Roberts and Amber Laign celebrated their marriage. Additionally, in October 2018, Robin was selected as a mentor for Disney's #DreamBigPrincess campaign.
Robin Roberts Net Worth 2023
Robin Roberts is estimated to have a net worth of $55 million dollars as of 2023. She has accumulated her net worth with her versatility in each field she has worked in.
Her primary source of earnings is from her career as a television broadcaster. As she progresses in her career, her net worth is projected to rise.
| | |
| --- | --- |
| Year | Net Worth |
| 2023 | $55 Million |
| 2024 | $56 Million |
| 2025 | $57 Million |
| 2026 | $58 Million |
| 2027 | $59 Million |
Robin Roberts Salary 2023
Robin Roberts receives an estimated salary of $18 Million per year, she gets a monthly salary of $1,499,999.94. Robin works as a television broadcaster who is the anchor of ABC's Good Morning America.
| | | |
| --- | --- | --- |
| Year | Salary Per Year | Salary Per Month |
| 2023 | $18 Million | $1,499,999.94 |
| 2024 | $19 Million | $1,583,333.27 |