Lauren Maxwell Biography
Lauren Maxwell gained public recognition as the late daughter of Turquoise Miami and Fetty Wap, a renowned American rapper and singer. Fetty Wap garnered widespread attention in late 2014 when his track "Trap Queen" was re-released as his debut single for 300 Entertainment, an imprint of Atlantic Records.
How did Lauren Maxwell die/ Causes of Death
Fetty Wap's daughter, Lauren Maxwell, aged four, passed away on June 24, 2021, at their residence in Atlanta, Georgia. According to the information obtained from her death certificate by TMZ, her tragic death was attributed to a 'fatal cardiac arrhythmia due to complications of congenital cardiac anomalies,' highlighting the challenges she faced since birth.
Fetty Wap, also known as Willie Junior Maxwell II, and Lauren's mother, Turquoise Miami, confirmed the heartbreaking news of their daughter's passing. Both parents honored their beloved daughter, with the rapper dedicating a performance at the Rolling Loud Festival in late July to Lauren, paying a heartfelt tribute to her memory.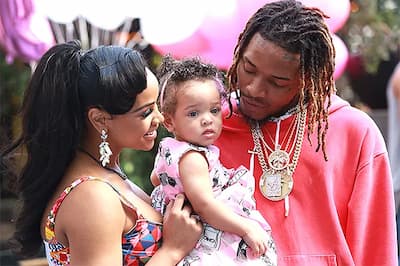 Lauren Maxwell Parents and Siblings
Lauren Maxwell was the beloved daughter of Turquoise Miami and Fetty Wap. Fetty Wap, known for his music, is the father of six children, each with a different mother.
Here is a list of Fetty Wap's children and their respective mothers:
Aydin (born May 2011) with Ariel Reese
Zaviera (born March 2015) with Lezhae Zeona
Khari (born March 2016) with Masika Kalysha
Amani (born April 2016) with Elaynna Parker
Lauren (2017–2021) with Turquoise Miami
Zy (born 2018) with Lezhae Zeona
In the past, there was speculation regarding Fetty Wap's paternity, particularly concerning model Alexis Skyy's daughter Alaiya. However, in 2019, Fetty Wap clarified that while he is not Alaiya's biological father, he continues to play a paternal role in her life. Alaiya's biological father was later revealed to be Brandon Medford in December 2020.
Fetty Wap's personal life has been documented in the media, particularly his relationships with Masika and Alexis Skyy, which were featured on VH1's Love & Hip Hop: Hollywood and Love & Hip Hop: New York, respectively.
In September 2019, Fetty Wap married model Leandra K. Gonzalez. However, they officially divorced a year later in 2020. Tragically, in July 2021, Fetty Wap and Turquoise Miami faced the heartbreaking loss of their daughter Lauren, who passed away at the age of four.
While initial reports indicated complications from a congenital heart arrhythmia, the exact cause of Lauren's death was yet to be fully determined at the time of Turquoise Miami's Instagram statement in August 2021.
Lauren Maxwell Father Fetty Wap
Willie Junior Maxwell II, known professionally as Fetty Wap, is a prominent American rapper and singer, born on June 7, 1991. His swift rise to fame occurred in late 2014, propelled by the re-release of his track "Trap Queen" as his debut single for 300 Entertainment, an Atlantic Records imprint.
"Trap Queen" peaked at number two on the Billboard Hot 100, paving the way for subsequent hit singles such as "679" (featuring Remy Boyz) and "My Way" (remixed with Drake). These tracks also enjoyed considerable success on the charts throughout the summer of 2015. Fetty Wap's eponymous debut studio album (2015) followed suit, claiming the top spot on the Billboard 200 chart.
Renowned for his distinctive blend of melodic singing and rapping, lighthearted lyricism, buoyant production, and signature catchphrases like "1738!", Fetty Wap swiftly carved a unique place in the music scene. While he saw moderate success with singles like "Jimmy Choo" and "Wake Up" in 2016, his appearance on Fifth Harmony's "All In My Head (Flex)" further solidified his presence in the industry.
In 2022, Fetty Wap was sentenced to six years in prison for drug trafficking. Despite this setback, his contributions to the music industry have not gone unnoticed. He received two Grammy Award nominations and secured the titles of "Best New Artist" at the iHeartRadio Music Awards and "Top New Artist" at the Billboard Music Awards in 2016.
Fetty Wap hails from Paterson, New Jersey, where he spent his formative years. Born with glaucoma affecting both eyes, he disclosed in a 2015 interview that his left eye could not be saved, leading to the use of an ocular prosthesis. He attended Eastside High School before leaving to pursue his music career.