Joy Behar Biography
Joy Behar is an American comedian, television host, actress, and writer who was born on October 7, 1942. She is the only original panelist still appearing on ABC's daytime talk show The View, where she co-hosts.
From 2009 to 2011, she hosted The Joy Behar Show on HLN, and from 2012 to August 2013, she hosted Joy Behar: Say Anything! on Current TV.
Late Night Joy, Behar's most recent weekly late-night talk show, premiered on TLC in 2015. She's also the author of The Great Gasbag: An A–Z Study Guide for Surviving the Trump Era.
Original Panelist of the View
Behar joined the ABC daytime talk show The View, which was co-created by Barbara Walters, as one of the original panelists in 1997.
Behar began as a guest co-host on days when Walters was unavailable, but she eventually became a permanent co-host. Joy Behar hosted a segment called "Joy's Comedy Corner" on which she showcased both well-known and up-and-coming comedians.
Following a decade of nominations, Behar and her co-hosts Whoopi Goldberg, Elisabeth Hasselbeck, Sherri Shepherd, and Barbara Walters won the Daytime Emmy Award for Outstanding Talk Show Host in August 2009.
Behar announced on March 7, 2013, that she would be leaving the show at the end of the current season. According to Deadline, "It appeared to be the right moment… You come to a point where you ask yourself, "Do I want to do this?" There are other things on my plate that I'd like to do — I've been working on a play, and I've neglected my standup routine ".. Her last show was on August 9, 2013, when the show paid tribute to Behar in the style of "This Is Your Life."
Behar continued to guest co-host in 2014 and 2015 after leaving the show in 2013. On August 25, 2015, ABC announced that Behar would return as a regular co-host beginning September 8, 2015, with the premiere of the 19th season.
According to a quote from Behar, "They drew me back in just as I thought I was free. Plus, Steve was sick of applauding every time I expressed an opinion. But I'm relieved to be back at home. And I'm excited to add my two cents to the debates, particularly now that Hillary and Donald are in the spotlight."
During a discussion about the 89th Miss America pageant in 2015, Behar questioned why contestant Kelley Johnson was wearing "a doctor's stethoscope" during her monologue.
Behar's remark, along with that of fellow co-host Michelle Collins, sparked an outpouring of support from the nursing community on social media, with the hashtag #NursesUnit trending. Later, on air, Behar and Collins addressed the controversy. As a result, a number of companies have withdrawn their sponsorships from the series.
Behar stated in 2018 while analyzing television personality Omarosa's comments about US Vice President Mike Pence's religiosity: "It's one thing to talk to Jesus; it's quite another to have Jesus speak to you. Hearing voices is a form of mental illness, if I'm not mistaken."
Media Research Center, a content analysis organization, launched a campaign demanding an apology from Behar and urging viewers to do the same, resulting in 40,000 calls to ABC and 6,000 complaints to the show's advertisers.
Pence retaliated by accusing the show of promoting "religious intolerance." Later, Walt Disney Company CEO Bob Iger stated that Behar had apologized to Pence directly.
On March 13, she apologized live on air, saying: "Vice President Pence is correct; I was raised to respect everyone's religious beliefs, but I failed to do so. I apologize profusely for what I said."
Joy Behar Age
Joy Behar is 79 years of age as of 2021, she was born as Josephine Victoria "Joy" Behar on October 7, 1942, in Williamsburg, New York, NY. She celebrates her birthday every year on October 7 and her birth sign is Libra.
| | | |
| --- | --- | --- |
| Year | 2021 | 2022 |
| Joy Behar Age | 79 years | 80 years |
Joy Behar Salary on The View
Joy Behar's salary was revealed to be $7 million every year and got a monthly salary of $582,870. Josephine Victoria "Joy" Behar (born October 7, 1942) wears many hats, she is a comedian, television host, actress, and writer.
She is the longest-serving co-host of the ABC daytime talk show The View, where she is the only original panelist still frequently appearing.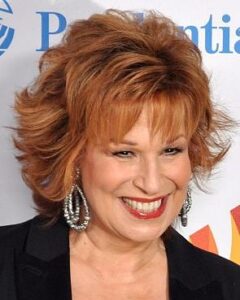 Behar hosted The Joy Behar Show on HLN from 2009 to 2011 and later on Joy Behar: Say Anything! on Current TV, from 2012 until the channel switched formats in August 2013. Her most recent weekly late-night talk show, Late Night Joy, aired on TLC in 2015. She additionally wrote The Great Gasbag: An A–Z Study Guide to Surviving Trump World.
| | | |
| --- | --- | --- |
| Year | 2022 | 2023 |
| Joy Behar Salary | $7 million | $7.5 million |
| Joy Behar Net Worth | $30 million | $30.8 million |
Joy Behar Net Worth 2022
Joy Behar is estimated to have a net worth of $30.8 million dollars at present. She has accumulated her net worth with the versatility she has shown in each field she has worked in. Her main source of earning is from her career as a comedian, television host, actress, and writer. As she progresses in her career, her net worth is projected to rise.
Joy Behar Height
Height: 5 ft 6 in / 168 cm, Weight: 132 lb / 60 kg, Body Measurements/statistics: 38-31-41 in
Joy Behar Family
Behar was born as Josephine Victoria Occhiuto in Williamsburg, Brooklyn, New York, she is the only child to a Roman Catholic family of Italian descent.
Joy's mother, Rose (née Carbone) Occhiuto, was a seamstress, while her father, Gino Occhiuto, was a truck driver for Coca-Cola.
Education
Behar graduated with a BA in sociology from Queens College in 1964 and got an MA in English education from Stony Brook University in 1966.
From the late 1960s to the early 1970s, she was a teacher, she taught English on Long Island at Lindenhurst Senior High School in Lindenhurst, New York. She additionally studied acting at the HB Studio.
Joy Behar First Husband
Joy Behar was first married to Joe Behar (Joseph Behar), a college professor and later on a television director and producer.  Joy and her first husband Joe were married from 1965 to 1981. They have one child, a daughter, Eve Behar Scotti.
Behar has a grandson named Luca.
Joe Behar Age at Death
Joseph was born 30 September 1926, in Sayville, N.Y. he died on 26 June 2021 (aged 94). His cause of death was due to advanced age.
Joe Behar Net Worth
Behar had an estimated net worth of around $2 million at the time of his death, most of his wealth went to his daughter Eve Behar and his grandson Luca.
Joy Behar Husband Now
Behar has been married twice, she is currently married to Steve Janowitz with whom they were together for 29 years, they did their wedding in 2011.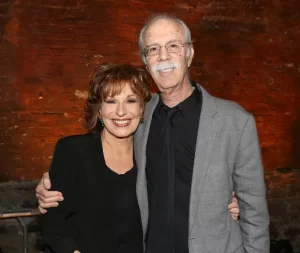 How they met
Behar revealed that she met her current husband Janowitz at a "semi nudist colony". She revealed these details in a March 2020 episode of The View.
Behar said that her husband was completely naked the first time they landed their eyes on each other.
"I don't know if you know this about me, but I met my husband at a semi-nudist colony. It's true."
Her co-host McCain hopped in to add: "Yeah, she did, and they hooked up immediately."
Behar then proceeded to make it clear that he was completely naked, but she was still with some clothes "because for a man to see [her] naked, [she has] to be in his will."
Joy continued: "He was all the way on the other side of this place — and it was like an adult place.
"He was far away naked. And then at night, there was a movie playing, and then I saw him fully dressed."
"But I remembered him from the daytime. It's true."
"People wonder about that. I tell that story, and people are like, 'Joy, really? That twitching, crazy woman on The View?' Yeah."
Steve Janowitz Age
Behar's husband is over 88 years of age as of 2021, he was born in the 1940s, in New York City, United States. He has been celebrating his birthday every year together with his family and friends.
| | | |
| --- | --- | --- |
| Year | 2021 | 2022 |
| Anthony Everett Age | 88 years | 89 years |
Steve Janowitz Net Worth
Janowitz is estimated to be worth $1 million, his wife on the other hand is worth $30.8 million dollars at present.
Steve Janowitz Occupation
It is not publicly known what Behar's husband does for a living, he is famously known for being the husband of the celebrated comedian, television host, actress, and writer.
Steve Janowitz Nationality
Janowitz is an American national by birth.