Jackie Robinson Jr. Biography
Jackie Robinson Jr., the eldest son of the renowned Baseball Hall of Fame player Jackie Robinson, tragically passed away on June 17, 1971, in a fatal car accident. Born merely five months before his father's historic achievements, and departing a year before him, Jackie Robinson Jr.'s life encapsulated both the triumphs and challenges of mid-20th century life in the United States.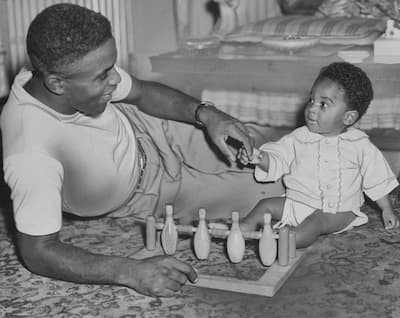 Jackie Robinson Jr. Father Jackie Robinson
Jackie Robinson was a groundbreaking figure in American sports history, known for his historic entry into Major League Baseball as the first African-American player in the modern era. His trailblazing actions broke the long-standing racial segregation in professional baseball, marking a significant milestone in the civil rights movement.
Born on January 31, 1919, in Cairo, Georgia, Robinson grew up in a family of sharecroppers, moving to Pasadena, California, after his father left the family. Following his retirement from baseball, his wife, Rachel Robinson, made significant strides in academic nursing, later becoming an esteemed professor and director in the field.
Their eldest son, Jackie Robinson Jr., faced personal struggles from an early age, undergoing special education and later enlisting in the Army. After his military service, he battled with drug addiction but ultimately turned his life around, becoming a counselor. Tragically, he passed away in a car accident at the age of 24, an event that deeply affected Jackie Robinson Sr. and spurred him to advocate against drug addiction in his later years.
Despite his impactful legacy, Jackie Robinson Sr. battled with health issues, including heart disease and diabetes, which led to his passing in 1972 at the age of 53. His funeral service brought together thousands of mourners, including notable figures from the world of sports and civil rights.
After his death, his widow, Rachel, founded the Jackie Robinson Foundation, which continues to honor his memory and legacy. Their daughter, Sharon, followed her own path as a midwife and author, while their son, David, has committed himself to social activism and sustainable coffee farming in Tanzania.
Jackie Robinson Jr. Parents
Jackie Robinson Jr., born on November 9, 1945, entered the world as the son of Jackie and Rachel Robinson. His arrival coincided with his father's burgeoning baseball career, marked by record-breaking achievements and a prominent role in the big leagues.
At the age of five months, Jackie Jr. experienced a significant shift as the family relocated from Los Angeles to New York when his father was drafted by the Brooklyn Dodgers. While growing up, Jackie Jr. faced certain challenges that prompted his parents to enroll him in a special education program, ensuring he received the best possible support for his development.
As his father's career soared, attaining international acclaim for breaking the color barrier in Major League Baseball, the family's life became increasingly characterized by frequent travels and prolonged absences as Robinson's commitments took him away from home.
Despite his academic accomplishments, Jackie Robinson Jr. required more structure in his life than his famous family could provide. He briefly attended Rippowan High School in Stamford, Connecticut, before ultimately opting to leave school and enlist in the army.
Jackie Robinson Jr.'s Tragic Death
Jackie Robinson Jr., having discovered a sense of purpose and belonging, dedicated himself to serving the community as the assistant director of Daytop Village, striving to make a positive impact on the lives of those around him.
Tragically, on June 17, 1971, while en route to his parents' residence, Jackie Robinson Jr. was involved in a high-speed accident. Losing control of the vehicle, he crashed through a fence and collided with a bridge near Route 123 on the Merritt Parkway.
Despite the prompt response, he was declared deceased at the scene, and his brother David confirmed his identity at the nearby Norwalk Hospital. Jackie Robinson Jr. was just 24 years old at the time of his untimely passing.
Despite the challenges he faced in finding his place in the world, Jackie Robinson Jr. exhibited resilience reminiscent of his renowned namesake. Growing up under the glare of his father's fame, encountering the harsh realities of war, and grappling with the sense of displacement upon his return, Jackie Jr. encountered significant struggles.
However, he demonstrated remarkable strength in overcoming addiction, the impact of wartime injuries, and familial difficulties, ultimately carving out a unique and meaningful space for himself.