Geraldo Rivera Biography and Career
Geraldo Rivera is an American journalist, attorney, author, political commentator, and former television host. He joined FOX News Channel in 2001 as a war correspondent and is now a rotating co-host of The Five (weekdays, 5-6 PM/ET).
Rivera also hosts COPS: All Access on FOX Nation, the direct-to-consumer streaming service from FOX News Media. The show takes a behind-the-scenes look at the dangers that law enforcement officers face on a daily basis.
Rivera previously worked for the network as a correspondent-at-large, providing live coverage and commentary on a variety of breaking news stories, including terrorist attacks, natural disasters, and more.
In 2015, he reported live from Paris, France, on the deadly terrorist attacks at the Bataclan theater, and from Baltimore on the death of unarmed adult Freddie Gray and the ensuing protests.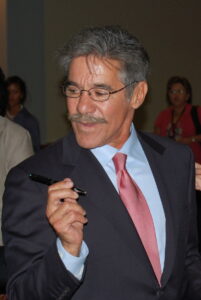 Rivera was reporting live from Benghazi, Libya, in 2011 when he was caught in the crossfire between Libyan military and rebel forces.
He contributed to FNC's extensive coverage of the Minneapolis bridge collapse in 2007, as well as the aftermath of Hurricane Katrina in 2005.
Rivera was stationed in Afghanistan for Operation Enduring Freedom in 2001, and later in Bethlehem for the Israeli-Palestinian conflict. He also covered Iraq's elections from Baghdad.
Rivera has hosted hour-long specials for the network throughout his career, including pieces on the late comedian Joan Rivers and singer Elvis Presley.
He obtained an exclusive interview with Joe Jackson in 2009, shortly after the death of his son Michael Jackson. Prior to that, he obtained an exclusive interview with the late Michael Jackson in advance of his trial on child molestation charges.
Rivera began his career as a reporter for WABC-TV in New York, where he presented a series exposing the deplorable conditions at the Willowbrook State School for the Mentally Ill.
He recently celebrated 50 years in television news. These award-winning reports prompted a government investigation, which resulted in the institution's closure.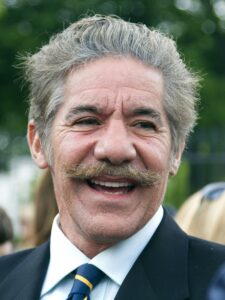 Before joining the original cast of ABC's Good Morning America, Rivera hosted ABC's Good Night America and presented the first television broadcast of the infamous Abraham Zapruder film of President John F. Kennedy's assassination.
He also worked as an investigative reporter for ABC's 20/20 for eight years. "The Elvis Cover-Up," one of his hour-long reports, was one of 20/20's highest rated shows for more than two decades.
Rivera began producing and hosting The Geraldo Rivera Show in 1987, and he did so for 11 years. He hosted a series of investigative specials on NBC in 1998.
He also hosted Rivera Live, CNBC's top-rated prime-time show, where his critically-acclaimed coverage of the O.J. Simpson civil trial verdict set an all-time CNBC ratings record.
Rivera has received more than 170 journalism awards, including the prestigious George Foster Peabody Award, three national and seven local Emmys, two Columbia-Dupont and two additional Scripps Howard Journalism Awards, for his NBC News documentary "Women In Prison" and the Scripps Howard Foundation national journalism award for "Back to Bedlam."
Rivera, a veteran foreign correspondent, has been on the frontlines of almost every international conflict since 1973. He is an expert in the Afghanistan region, having covered the international drug wars in tribal areas in both Pakistan and Afghanistan.
His extensive war experience includes the violent coup in Chile and the Yom Kippur War, as well as civil wars in Guatemala, the Philippines, and Nicaragua, as well as ethnic conflicts in Lebanon (1980-83) and Croatia, Bosnia and Herzegovina, and Kosovo (1998-1999). He traveled to Colombia in 2000 to cover the country's civil war.
Rivera is the author of seven books and a graduate of the University of Arizona and Brooklyn Law School.
Geraldo Rivera Net Worth 2022
Geraldo Rivera is estimated to have a net worth of $21 million dollars at present. He has accumulated his net worth with the versatility he has shown in each field he has worked in. His main source of earning is from his journalism career.
| | | |
| --- | --- | --- |
| Year | 2022 | 2023 |
| Geraldo Rivera Salary | $2.6 million | $2.6 million |
| Geraldo Rivera Net Worth | $21 million | $25 million |
Geraldo Rivera Salary 2022
Geraldo Rivera salary is $2.6 million every year and gets a monthly salary of $181,840, he is an American journalist, attorney, author, political commentator, and former television host.
From 1987 to 1998, he hosted the tabloid talk show Geraldo. He rose to prominence after appearing in the live television special The Mystery of Al Capone's Vaults.
Rivera hosted the news magazine show Geraldo at Large, hosted Geraldo Rivera Reports on occasion (in lieu of hosting At Large), and appeared frequently on Fox News programs such as The Five.
Geraldo Rivera Wife
Rivera has been married five times:
First wife, Linda Coblentz (1965–1969, divorced)
Second wife, Edith Vonnegut (December 14, 1971 – 1975, divorced)
Third wife, Sherryl Raymond (December 31, 1976 – 1984, divorced)
son: Gabriel Miguel (born July 1979)
Fourth wife, C.C. (Cynthia Cruickshank) Dyer (July 11, 1987 – 2000, divorced)
children: daughter Isabella Holmes (born 1992) daughter Simone Cruickshank (born 1994). Six other attempts at having children through IVF ended in miscarriage
Fifth wife, Erica Michelle Levy (since August 2003)
one daughter
Geraldo Rivera Age
Geraldo is 79 years of age as of 2022, he was born on July 4, 1943, in New York City, United States. He has been celebrating his birthday every year together with his family and friends.
| | | |
| --- | --- | --- |
| Year | 2022 | 2023 |
| Geraldo Rivera Age | 79 years | 80 years |