Brooklyn Technical High School
Brooklyn Technical High School, also known as Brooklyn Tech and administratively as High School 430, is a prestigious public magnet high school in New York City that specializes on science, technology, engineering, and mathematics. Along with Stuyvesant High School and the Bronx High School of Science, it is one of three original specialized high schools run by the New York City Department of Education. Brooklyn Tech is regarded as one of the most prominent and selective high schools in the country.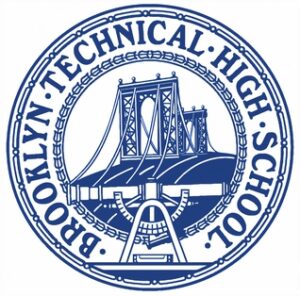 Passing the Specialized High Schools Admissions Test is required for admission to Brooklyn Tech. Every November, around 30,000 eighth and ninth graders take the three-hour test to gain admission to eight of the nine specialized high schools. Each year, approximately 1,900 to 1,950 students are admitted.
Among its graduates are prominent scientists, inventors, innovators, Fortune 500 CEOs and founders, high-ranking diplomats, academic professors, literary and media luminaries, professional athletes, National Medal recipients, Nobel laureates, and Olympic medalists.
Brooklyn Technical High School Address
Address: 29 Fort Greene Pl, Brooklyn, NY 11217
Hours: Closes 4PM
Phone: (718) 804-6400
Admissions: Competitive Examination
School number: 430
Population: 5,884
Principal: David Newman
District: New York City Public Schools
Founded: 1922
Colors: White, Navy Blue
Brooklyn Technical High School Requirements 2022, Acceptance Rate
What courses are required?
• 2 semesters of Design & Drafting for Production (NYSED Art Requirement)
• 2 semesters of AP Principles of Computer Science
• 8 semesters of English Language Arts
• 8 semesters of Social Studies (4 Global History, 2 US History, 1 US Government, 1 Economics)
• 6 semesters of Mathematics (Algebra, Geometry, Trigonometry)
• 6 semesters of Science (Biology, Chemistry, Physics)
• 6 semesters of World Languages (Chinese, French, Italian or Spanish)
• 8 semesters of Physical Education & 1 semester of Health Education
• A "Major" concentration
The completion and passing of NY State Regents exams are also required. At Tech, all students must pursue the Advanced Regents Diploma which requires passing:
• ELA Regents (11th grade)
• Global History Regents (10th grade), US History Regents (11th grade)
• Algebra Regents (8th or 9th Grade), Geometry Regents (9th or 10th grade), Trigonometry Regents (10th or 11th grade)
• Living Environment Regents (8th or 9th Grade), Chemistry Regents (10th grade), Physics Regents (9th or 11th grade)
• World Language (10th or 11th grade)
To earn the coveted NCSSSMST Brooklyn Tech Diploma, in addition to the Advanced Regents Diploma requirements above, the students must:
• pass 2 semesters of Design & Drafting for Production
• pass 2 semesters of AP Principles of Computer Science
• pass Chemistry & Physics and their corresponding Regents exams
• pass all courses required for their specific major
• complete the required community service
Transport
The Fulton Street (G train) and Lafayette Avenue (C train) stations of the New York City Subway are nearby, as are additional BMT and IRT services at DeKalb Avenue and Atlantic Terminal, which also serves the Long Island Rail Road.
Additionally, the B25, B26, B38, and B52 routes of New York City Bus stop near Brooklyn Tech. Students who live a particular distance from the school are given full-fare or half-fare student MetroCards for public transit on their first day of school at BTHS, as well as the first day of each subsequent academic term.
Majors at Brooklyn Tech
Brooklyn Tech has a college-style major system, which is rare for an American high school. During the second semester of their sophomore year, students are assigned a major after ranking all majors in order of preference.
These majors comprise courses, often Advanced Placement or Project Lead the Way (PLTW), that focus on the specific area of interest assigned to students during their final two years at Tech.
Each major has a different algorithm (PI index) that is used to rank students based on their major ranking preference and current averages from freshman and sophomore year.
If a student does not get into their first choice, the student with the highest PI index for their second choice will be given priority over another student with a lesser average on the same major preference.
Below is the list of majors at Brooklyn Tech.
• Aerospace Engineering
• Architectural Engineering
• Biological Sciences
• Chemical Engineering
• Civil Engineering
• Digital Media
• Electrical Engineering
• Environmental Science Research
• Finance
• Industrial Design
• Law and Society
• LIU Advanced Health Professions
• LIU PharmD
• Applied Mathematics
• Mechatronics and Robotics
• Pharmaceutical Sciences
• Physics
• Social Science Research
• Software Engineering
Brooklyn Technical High School alumni
The following is a list of noteworthy Brooklyn Technical High School alumni. Brooklyn Technical High School also boasts a one-of-a-kind Hall of Fame, which honors alumni who have made major contributions to STEM.
Gary Ackerman '60 – United States Representative, New York (1983–2013)
Warren Adler '45 – novelist
David Antin, '50 – poet, art critic, professor
Henry L. Bachman, President of IEEE in 1987. Vice President of BAE Systems
Karol J. Bobko '54 – NASA astronaut] (1999 Hall of Fame inductee)
George R. Caron '38 – Tail gunner aboard the Enola Gay
John Catsimatidis '66 – Chairman and CEO, Red Apple Group
Frank A. Cipriani, Ph.D., '51 – President, SUNY at Farmingdale (1998 Hall of Fame inductee)
Harry Chapin '60 – Entertainer, humanitarian (2000 Hall of Fame inductee)
Tom Chapin '62 – Entertainer, humanitarian
Lorenzo Charles '81 – Professional basketball player
Kim Coles '80 – Actress
Diane Dixon '82 – Athlete
John Piña Craven '42 – Chief Scientist, US Navy Special Projects Office
James E. Dalton '49 – former Chief of Staff, Supreme Headquarters Allied Powers Europe; retired United States Air Force general (1998 Hall of Fame inductee)
Richard Fariña '55 – Writer, folksinger
Lou Ferrigno '69 – Bodybuilder, actor
Meredith Gourdine, Ph.D., '48 – Electrogasdynamics pioneer, '52 Olympic silver medalist] (1998 Hall of Fame inductee)
Warren Foster '23 – Cartoon music composer
Geoff Fox '68 – WTNH meteorologist
Elmer L. Gaden c.'40 – "The father of biochemical engineering"
Carl Gatto '55 – Alaska House of Representatives from 2003 to 2012
Gerry Goffin '57 – Brill Building lyricist
Francis Grasso '67 – Early disco DJ
David Groh '58 – actor, television's Rhoda
Gary Gruber, Ph.D., '58 – Author, physicist, testing expert
Isaac Heller (1926-2015, class of 1943), toy manufacturer who co-founded Remco (2013 Hall of Fame inductee)
Herbert L. Henkel '66 – former Chairman of Ingersoll Rand Corporation
Tommy Holmes '35 – Major League Baseball player
Joseph J. Jacobs, Ph.D., '34 – Author, engineer, humanitarian (2003 Hall of Fame inductee)
Lamont Jones (born 1972) – basketball player
Marvin Kitman '47 – Author, Newsday television critic] (1998 Hall of Fame inductee)
Joseph J. Kohn, '50 – Mathematician (2000 Hall of Fame inductee)
Richard LaMotta '60 – Founder of Chipwich, ice cream sandwich company
Ivan Lee '99 – Internationally ranked saber fencer
Al Lerner '51 – Businessman, ran MBNA and former owner of the Cleveland Browns
MSgt. Meyer S. Levin '34 – Decorated Army Air Force hero, World War II (1999 Hall of Fame inductee)
Harvey Lichtenstein '47 – Executive Director, Brooklyn Academy of Music (1967–99) (1999 Hall of Fame inductee)
Turk Lown, Major League Baseball player
William L. Mack '57 – Chairman, Mack-Cali Realty; philanthropist (2003 Hall of Fame inductee)
Jack Maple '70x – New York City Deputy Police Commissioner for Crime Control Strategies (1994-1996) and developer of CompStat process; completed high school equivalency after dropping out
Richard Matheson '43 – Author, screenwriter
Barry Mayo '70 – Radio executive
Matthew F. McHugh '56 – U.S. Congressman (1975–93)
Londell McMillan '83 – Attorney
Conrad McRae '89 – Professional basketball player
Saverio "Sonny" Morea '50 – American aerospace engineer, former NASA employee, and flight instructor. He managed the development of the Rocketdyne F-1 and Rocketdyne J-2 as well as the Lunar Roving Vehicle.
Tony "Anthony" Moran '82 – DJ, remix/record producer
Mike Nieves – Deputy Chief of Staff to New York City Council Speakers Christine Quinn, Gifford Miller and Peter Vallone
Ronnie Nunn '68 – NBA Director of Officials
Arno Allan Penzias, Ph.D '51 – 1978 Nobel laureate in physics (2000 Hall of Fame inductee)
Frederik Pohl '37x – Science fiction author; dropped out; received honorary diploma 2009
Vernon Reid '76 – Musician, Living Colour
Sal Restivo, Ph.D., '58 – Author, researcher] (1998 Hall of Fame inductee)
Leonard Riggio '58 – Chairman, Barnes & Noble (1999 Hall of Fame inductee)
Werner Roth '66 – Professional soccer hall-of-famer
Albert Ruddy '48 – Two-time Academy Award-winning producer
Mark Sarvas '82 – Novelist, book critic
Steven Sasson '68 – National Medal of Technology and Innovation-winner for work on digital photography (2013 Hall of Fame inductee)
John P. Schaefer, President Emeritus of the University of Arizona.
Raymond Scott '27 – composer, pianist, engineer
Irwin Shapiro '47 – astrophysicist
Keeth Smart '96 – Men's fencing silver medalist, 2008 Olympics
Erinn Smart '97 – Women's fencing silver medalist, 2008 Olympics
Chris Stanley – Radio producer for the Ron and Fez show
George Wald, Ph.D., '23 – Biologist, '67 Nobel Laureate] (1998 Hall of Fame inductee)
Charles B. Wang '62 – Co-founder, Computer Associates International; minority owner, New York Islanders hockey team (2000 Hall of Fame inductee)
Anthony D. Weiner '81 – United States Representative from New York (1999–2011) and convicted sex offender
Robert Anton Wilson '50 – futurist
Jumaane Williams '94 – New York City Council member
Walter Yetnikoff '49 – Record industry executive
Paul Yesawich '41 – professional basketball player
Marilyn Zayas '82 – Judge, Ohio's First District Court of Appeals
Lee David Zlotoff '70 – television writer