Badi Muhsin Biography
Badi Muhsin (OGW) was a Kenyan Swahili journalist, he was one of the longest Swahili news anchors in Kenya having worked for the oldest radio and TV station, the Kenya Broadcasting Corporation, for over 30 years. He combined his broadcasting work with that of a public relations officer at the Kuwaiti Embassy in Kenya.
Badi Muhsin Age at Death
Muhsin was 67 years of age when he passed away on Friday, October 8, 2021. He was born in 1954, in Kitui County. He celebrated his birthday every year together with his wife and his close friends.
Badi Muhsin Cause of Death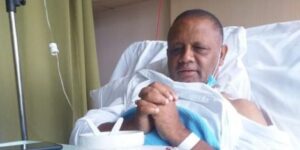 According to reports, the veteran TV presenter underwent surgery to remove kidney stones in 2020.
Badi Muhsin Parents
Badi was the first of eight children born into a strict Muslim family in Kitui County. His parents were both from Mombasa, which explains his Swahili fluency and proficiency. His father died while he was a child, and his mother died decades later.
Badi Muhsin Education and Career
Badi excelled in acting in school, appearing in lead roles in a variety of school productions and representing his school at drama festivals. He was so proficient at public speaking that he was given the responsibility of making announcements at school functions.
He was also a talented writer, contributing several articles to Baraza, a Swahili weekly newspaper. His late uncle, Omar Chambati, who was a news editor at Taifa Leo daily at the time, was influential in encouraging young Badi to pursue a career in journalism. Badi's greatest want at the time was to see his face on television, and he praised God for making that wish come true.
After graduating from high school, he continued to announce at various festivities in his hometown, and it was at one of these events that he was discovered by Daniel Mutinda, the then Member of Parliament for Kitui and the Minister of Information and Broadcasting at the time. He was so taken aback by Badi's eloquence that he arranged for him to be interviewed by the Voice of Kenya at the time (VOK).
In 1980, he passed the interview and began working as a Swahili translator. His job entailed translating English news and other broadcast materials into Swahili.
After five years as a translator, he was promoted to departmental supervisor after being funded for training at the Kenya Institute of Mass Communication (KIMC).
His career as a news anchor didn't take off as quickly as he had hoped. His big break came when a group of well-known news anchors at the station, notably Sammy Lui, spotted his potential and encouraged him to pursue sports reporting. He did so well that he was given Michezo, a Swahili sports news section. Badi loved collecting sports news and broadcasting it on the radio as a sports fan. This show was essential in launching his radio career.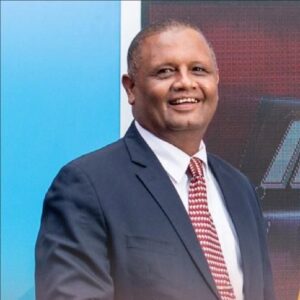 Mukhtasari wa Habari, a Swahili radio program, eventually appointed him to provide the Swahili news highlights. His lovely voice and hard effort won him a wider role as a Swahili news presenter, first during the off-peak hours of 9 a.m. and 4 p.m., and then during prime time news at 1 p.m., 7 p.m., and 9 p.m.
Working at KBC has instilled in him the values of discipline and perseverance. According to him, broadcast journalism necessitates talent, charisma, and a polished presentation. "You must be willing to study and demonstrate your worth. You must also be extremely disciplined since your job puts you in the public eye, and your behavior, both at work and outside, reflects on your rank," he says.
In 2011, former President Kibaki awarded Badi the Order of the Grand Warrior (OGW) medal for his lengthy service in the Kenyan media. In 2010, the renowned Swahili novelist Wallah Bin Wallah named him one of the top Kiswahili news anchors, and he was also named first runner-up for best Kiswahili translator in the KBC in 1993.
Between 1990 to 1993, Badi worked for Kenya Leo, a Swahili newspaper published by the Kenya Times, as a news and sports correspondent. He left the Kenya Times in 1993 to work as an information officer for the Kuwaiti Embassy in Kenya. Soon after, he was offered the chance to return to his old work as a part-time news presenter at KBC. His full-time employer, the Kuwaiti Embassy, permitted him to take on the part-time job of giving the Swahili news broadcast at 7 p.m., which he continued to do.
Badi was promoted from information officer to his last position as public relations officer at the embassy. He servedas a liaison between Kuwait's embassy in Nairobi and Kenya's government. Because of the flexible hours and the fact that he enjoys both, combining his two jobs has not been difficult for him.
Badi Muhsin Wife and Children
In July 1980, Badi married Khadija, his true love. "My wife and I are from the same Kitui neighborhood, and she comes from a conservative Muslim household as well," he explains. Jamal, (b. 1982), and Jamil, (b. 1984), are their two grown sons. Jamal is employed with the Kenya Red Cross, whereas Jamil is employed by DHL in Bahrain.
Badi is extremely proud of the men his sons have become. He believes he fulfilled his responsibility as a parent in their lives by raising them in a correct Muslim manner, instilling valuable characteristics in them, and sending them to school.
Badi Muhsin Net Worth
Badi was estimated to have a net worth of Ksh 4 million at the time of his death. He had accumulated his net worth with the versatility he had shown in each field he had worked in. His main source of earning was his journalism career.